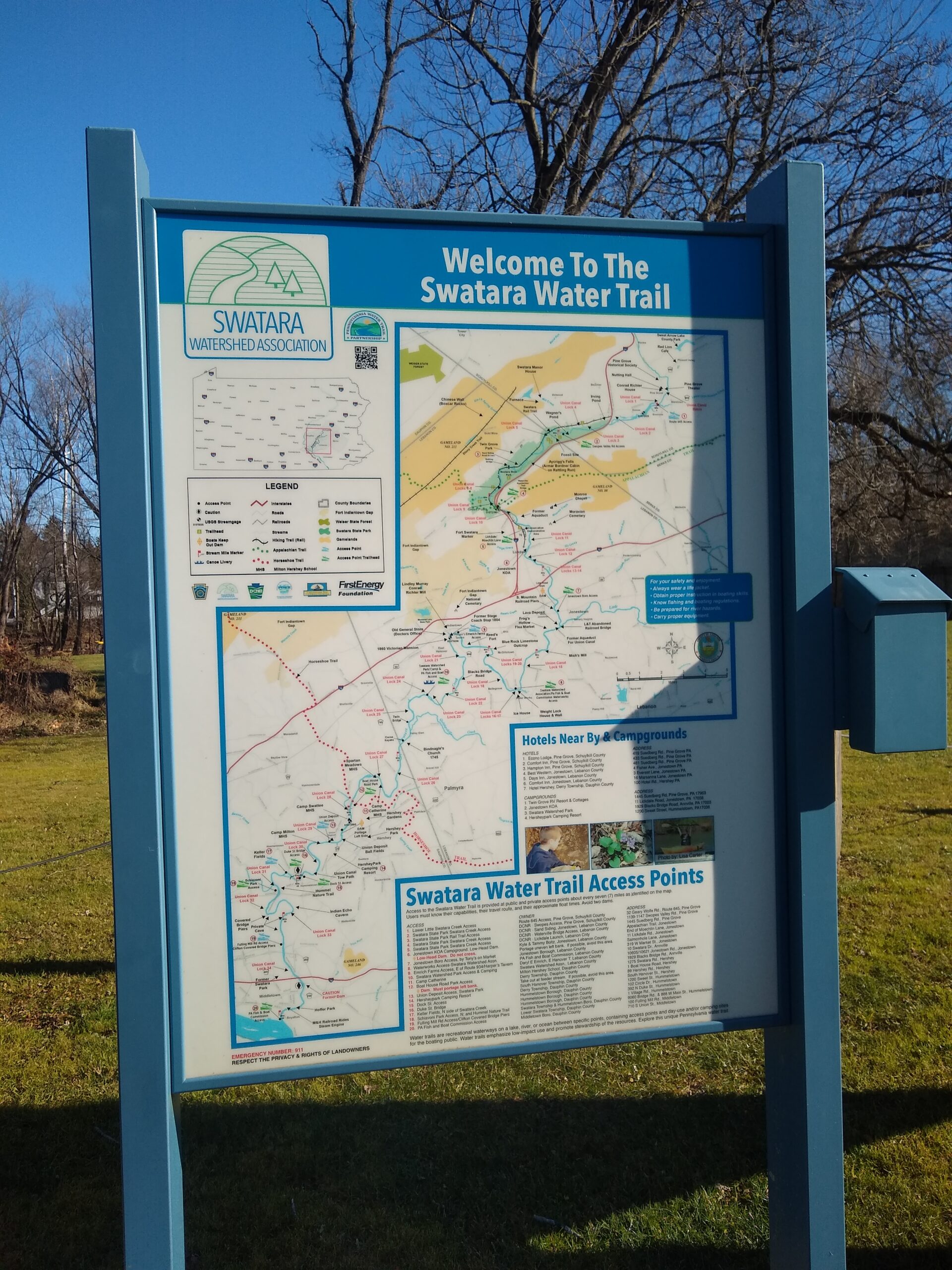 The Swatara Water Trail is a 60 mile segment of Swatara Creek from Pine Grove, Schuylkill County, to the PA Fish & Boat Commission's Middletown Access, in Dauphin County. It is one of 28 water trails designated as part of the PA Water Trail Partnership. The water trail travels past farm and bank barns, Union Canal locks, forested riparian buffers, Swatara State Park, the abandoned Lebanon to Tremont Railroad, Lebanon Valley Rails to Trails, Harper's Tavern, limestone outcrops, and the only lava deposits in the state.
Blue signs mark the official access points and printed maps can be found in the attached map boxes. A PDF of the map can be found below.
Swatara Water Trail Interactive Map
All access points, points of interest, campgrounds and approximate mile markers can be viewed on the interactive map by selecting the layers on the left.
Planning Your Trip
Planning your outing on the Swatara Water Trail requires taking many factors into account. These include choosing your entry and exit access points, creek and weather conditions and equipment considerations.
Safety
PA Fish and Boat requires the following:
Each person in a canoe, kayak, rowboat or SUP must have a wearable, USCG-approved Life Jacket (PFD – Personal Floatation Device). Life jackets must be the appropriate type, size and fit for the person intended. Children 12 years of age and younger must wear a life jacket when underway. Each person should have a sound making device (whistle or horn).
Mandatory Cold Weather Life Jacket Wear
Boaters must wear a life jacket on boats less than 16 feet in length or any canoe or kayak from November 1 through April 30.
PA Fish and Boat Paddlesports Requirements
Distance
The following chart lists approximate mileage between accesses. Float times depend on creek flow, type of craft and personal preferences on paddling and stops.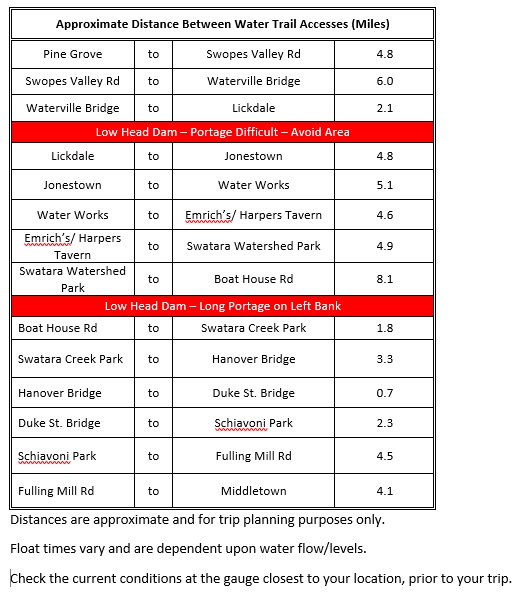 Water Level
Water levels and flow data can be found on the NOAA site. Choose the gauge location closest to your starting location. Scroll down the page to the map of the gauge location to toggle to the gauges upstream or downstream from the current location.